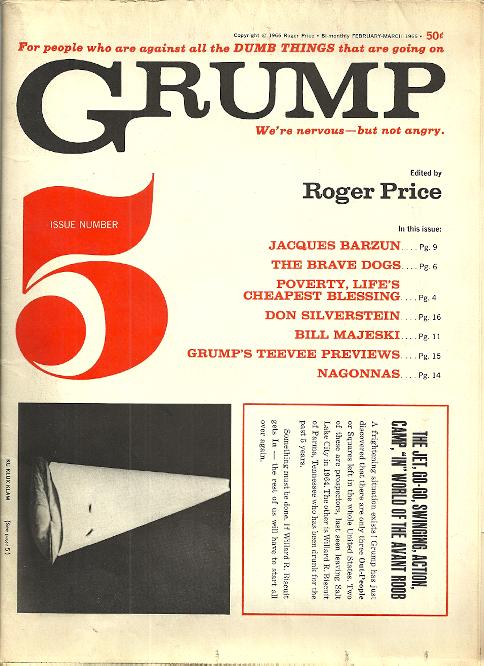 Roger Price led a curious career in the '50s and '60s. He contributed humor pieces to such magazines as Playboy and Mad, and put out several books of Droodles, simple sketches with droll titles. In 1958, he and Leonard Stern invented Mad Libs (actually a twist on such old amusements as Peter Coddle or Dr. Quack), and formed Price Stern Sloan (with Larry Sloan) to sell them.
In 1965, he published his own magazine, Grump, subtitled "For people who are against all the DUMB THINGS going on." It was a tabloid on thick paper, 16 pages in two colors, with no advertising. Price contributed his own material, like an article on pet clams, a parody of bullfighting (which involved kicking dogs), or a piece on "skull diving" (a new sport in which players jumped out of windows with springs on their heads). He also included Droodles and Mad Libs, and readers sent in "Grumps" (pet peeves) and "Nagonnas" ("I'm NAGONNA spend 30c on bus fare in order to lug all my old magazines downtown in a big carton and sell them to a second hand bookstore for 30c."). There were many short articles and cartoons, mostly more satirical than Price, mostly from a decidedly Greenwich Village perspective.
One of the hallmarks of Grump was the number of women who contributed. Among the regulars were Susan Sands (later active in NOW), Judith Rascoe (later a screenwriter, here a cartoonist), and Jeanne Sakol (who later founded the anti-feminist Pussycat League).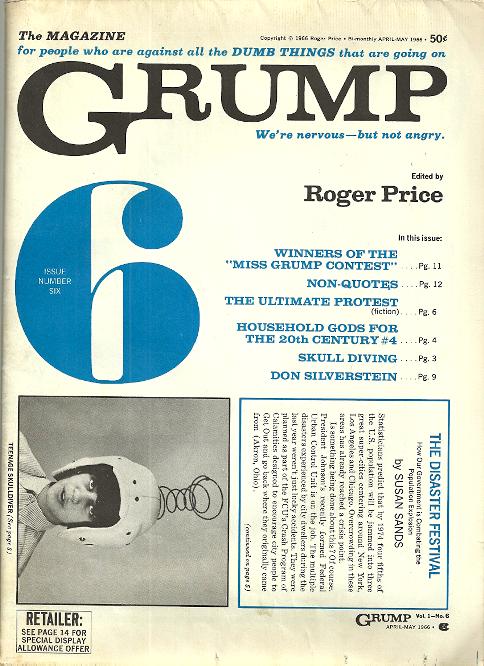 Grump lasted 12 issues, I think, and later attracted writers like Jean Shepherd, Henry Morgan, and Don Adams. I think it also eventually switched to a magazine format.
I bought a couple of issues when I was 11, probably attracted by the Droodles. My parents disapproved; I think they found articles like "The Inept Seducer" or "The Secret Service Orgy Guide" too dirty for my impressionable mind. I still have those copies, and now find Grump an entertaining '60s mix of Price silliness, sharper satire, and Village attitude, mixed in with more serious squibs (like Jacques Barzun criticizing the surfeit of art).
An excerpt from Susan Sands: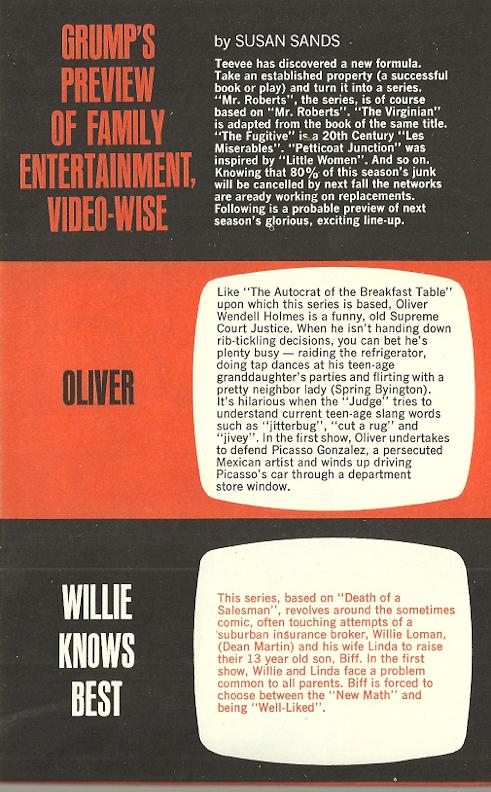 From a strip by Don Silverstein: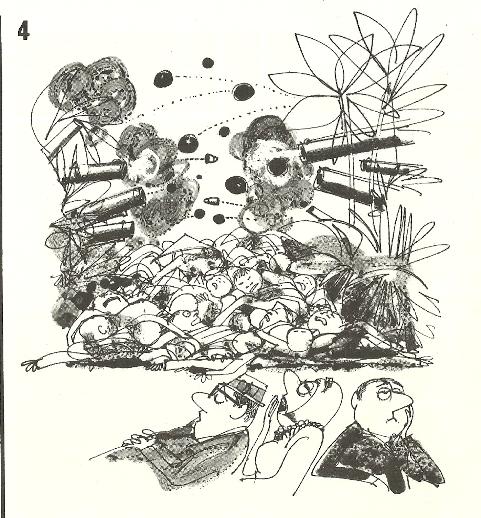 And one of Price's "Allegories for the Alienated":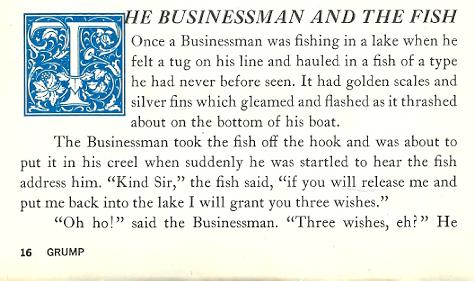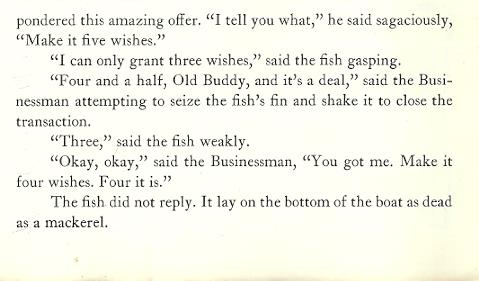 (Posted by Doug Skinner)