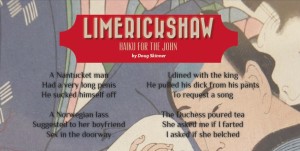 Black Scat Books has just released its eighth broadside, "Limerickshaw: Haiku for the John." I've selected sixteen classic dirty limericks, and rewritten them as haiku. Cleansed of rhyme, each haiku reveals the laconic narrative at the core. Norman Conquest's design incorporates an equally classic erotic Japanese print, showing a heteronormative couple generating children. It's suitable for the boudoir or bath, although perhaps not other places in your home. The image above shows only a portion of this lovely and explicit poster.
12 x 18 inches; printed on prime 80# UV-coated, acid-free stock.
Only $10 from Black Scat Books.
(Posted by Doug Skinner)