I recently picked up a packet of bawdy ephemera in an antique store: flyers, pamphlets, booklets, and sheets of sexual and scatological jokes and verses, all apparently from the 1930s.
Eleven of them were published by the Swan Publishing Co., in Elizabeth City, N. C. An internet search turned up nothing about it. However, one of the pamphlets was by a certain W. O. Saunders, and credited to the newspaper The Independent. Another booklet in the lot was written by Saunders and published by The Independent.
William Oscar Saunders (1880-1940) founded and edited The Independent in Elizabeth City, N. C., in 1907. He used the paper to crusade against creationism, child labor, lynching, political corruption, and the death penalty. One his most memorable campaigns was against the evangelist Mordecai Ham (Billy Graham's mentor). Ham's sermons were viciously antisemitic; when he accused the President of Sears Roebuck, Julius Rosenwald, of running brothels where white women serviced black men, Saunders went after him. Saunders collected letters from businessmen and ministers defending Rosenwald and condemning Ham, and published them in a booklet called The Book of Ham. Ham was forced to leave North Carolina.
Although I found nothing online linking Saunders to the Swan Publishing Co., I suspect he was behind it. I don't think it's likely that there was another press in the small town of Elizabeth City, especially one reprinting material from The Independent.
Most of the Swan publications are scatological, and affirm the eternal American craving for outhouse humor.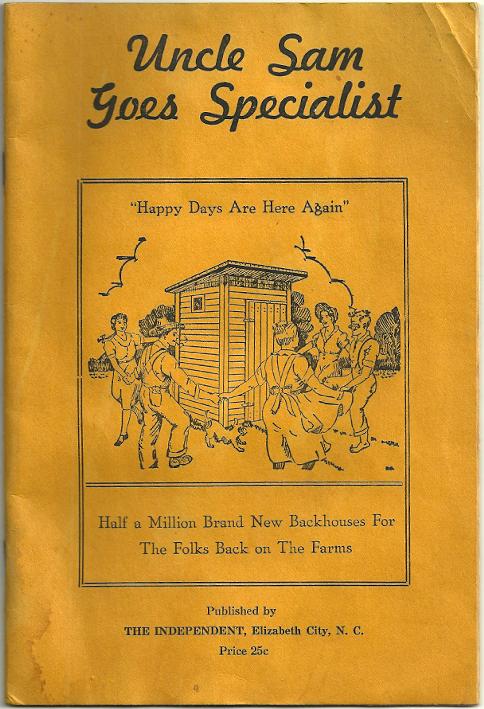 "Uncle Sam Goes Specialist" is the largest and longest of them, a collection of outhouse jokes, verses, and cartoons inspired by the Civil Works Administration. The title, of course, is inspired by Chic Sales's famous little book about an outhouse builder, The Specialist. It was published by The Independent in 1935, with an introduction by Saunders. Half of its 32 pages are devoted to mock ads for outhouse supplies (deodorants, laxatives, lighting, toilet paper, seats, etc.).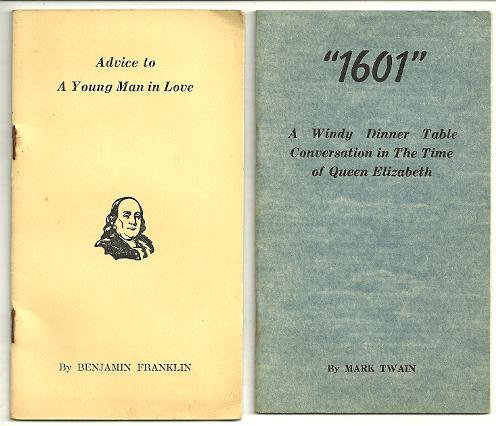 Benjamin Franklin's "Advice to a Young Man in Love" praises older women; Mark Twain's "1601" is a parody of Elizabethan literature, in which Queen Elizabeth and her court discuss farting. Both were frequently printed in private editions over the years.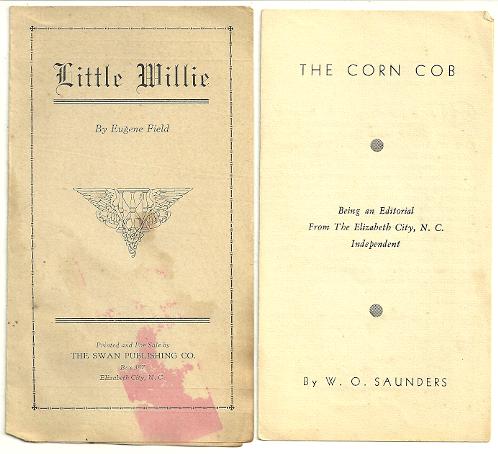 Eugene Field's "Little Willie" (appropriately water damaged) was another popular piece of privately circulated jokelore. Perhaps as a respite from the sentimental children's poems that made him famous, Field enjoyed writing remarkably obscene verse. "Little Willie" is rather mild: a nostalgic evocation of a child's bed-wetting. Saunders's "The Corn Cob" is a defense of corn cobs against modern toilet paper.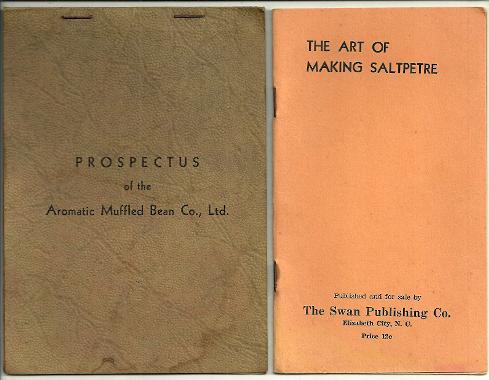 "Prospectus of the Aromatic Muffled Bean Co., Ltd." is a mock prospectus for beans that produce perfumed farts. "The Art of Making Saltpetre" contains two poems, purportedly from the Civil War, about using young women's urine to make explosives.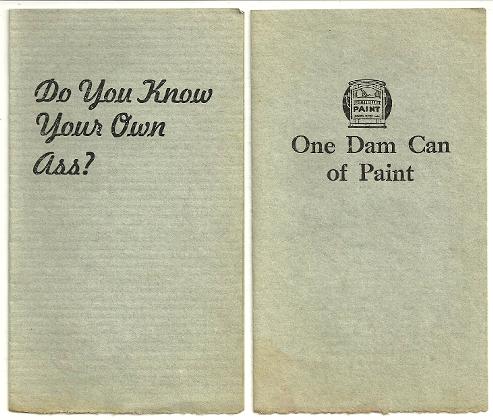 "Do You Know Your Own Ass?" is an extended double entendre on the word "ass" (not too extended; it's only two small pages). The Mayor's wife has a beautiful ass, people enjoy patting it, etc. "One Dam Can of Paint" is a poem in French dialect, in which a man complains that his painted toilet won't dry. It's credited to G. K. Gilmore, about whom I know nothing.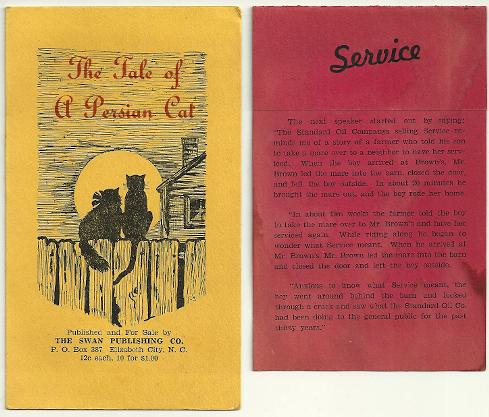 These two are more sexual: "The Tale of a Persian Cat" is a poem about a pampered cat who runs off with a tomcat, and "Service" is a joke comparing horses mating to "what the Standard Oil Co. had been doing to the general public for the past thirty years."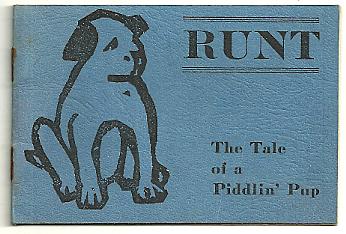 "Runt: The Tale of a Piddlin' Pup" is credited to Dr. Cy Thompson. Its hero is a dog who can piddle more than all the others because he has diabetes.
Other publications are advertised in the back of some of these: "The Old Backhouse," by James Whitcomb Riley (another popular outhouse poem), "The House Amongst the Lilacs," "Alma Mater Song, University of Krapperville," and "Heard on Main Street" ("being a collection of racy arguments on life, religion, politics, economics, sex, social and customs and whatnot as viewed by The Bank Clerk and The Soda Jerker").
As I said, I suspect Saunders was responsible for Swan Publishing. If so, good for him.
(Posted by Doug Skinner)