One of my insomnia books recently has been The Queer, the Quaint, and the Quizzical: A Cabinet for the Curious, by Frank H. Stauffer.  It's a compendium of odd facts, superstitions, linguistic curiosities, and folklore, published by David McKay in 1882.  Stauffer, according to what I could find, was a journalist and children's author; with this book, he promised "Strange customs, cranks and freaks, With philosophy in streaks."
Among its revelations was the following method of divination from the Book of Proverbs: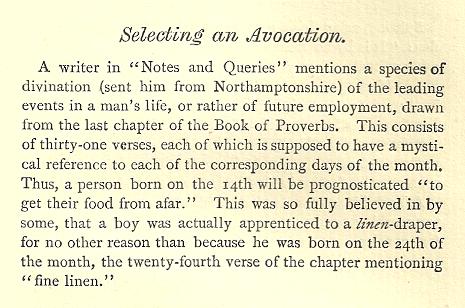 I'd heard of other methods of bibliomancy, but this was new to me.  I turned to my Bible and found the 31st chapter of Proverbs.  I was born on January 7th, so I read the 7th verse: "Let him drink, and forget his poverty, and remember his misery no more."  That doesn't sound very promising.  Maybe yours will be better.
(Posted by Doug Skinner)