Since so little is available in English about Alphonse Allais, and since I'm translating him, I think it would be useful to post a description of his complete works.  The standard edition was edited by François Caradec, and published by La Table Ronde in eleven volumes, from 1964 to  1970.  I'll summarize it in four posts, unless anyone objects.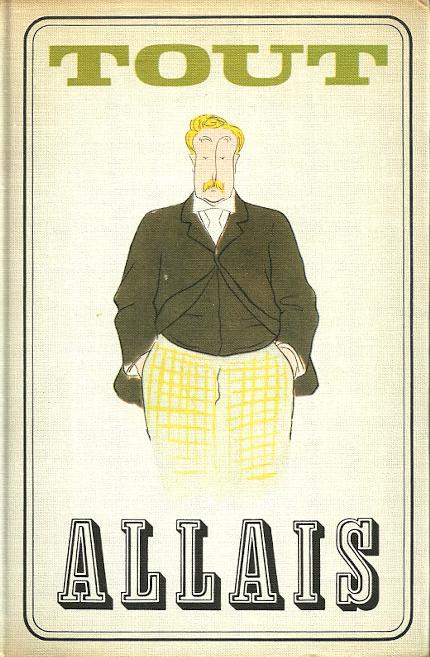 Volume 1 (1964, 604 pp.) contains the first five collections of what Allais called his "anthumous works."  Each contains short pieces culled from his contributions to various Parisian periodicals.  A se tordre (Double Over) (1891) was the first, with 45 pieces, drawn largely from Le Chat Noir.  Although Allais also wrote serious short stories early in his career, with this first book he established himself primarily as a humorist.
Vive la Vie! (1892) was a smaller collection, with 29 pieces.
Pas de Bile! (No Bile!) (1893) collected 39 pieces.
Le parapluie de l'escouade (The Squadron's Umbrella) (1893) also collected 39 pieces.  The title refers to a traditional joke for a new recruit: he was sent to bring back the squadron's umbrella.
Rose et Vert-Pomme (Pink and Apple-Green) (1894) contained 44 pieces.
This first volume also has an introduction and an illustrated chronology of Allais's life, both by Caradec.  The cover caricature was drawn by Leonetto Cappiello in 1900.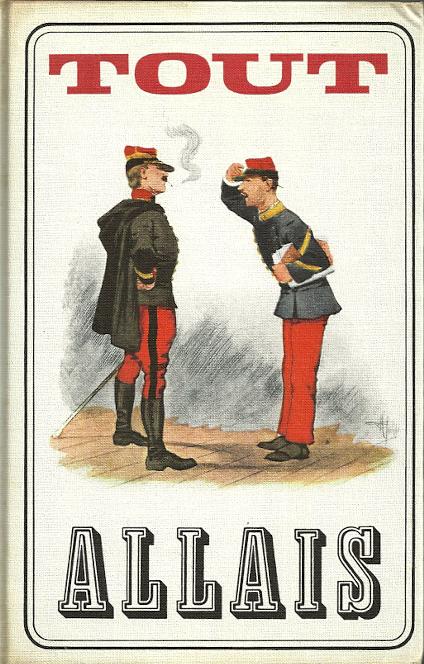 Volume 2 (1967, 478 pp.) contains the next three volumes of the anthumous works.
2 + 2 = 5 (1895) collected 65 stories.
On n'est pas des boeufs  (We Are Not Cattle) (1896) collected 44 stories.
And Le bec en l'air (The Nose in the Air) (1897) collected 51 stories.
The cover illustration is by Albert Gullaume, from My 28 Days, 1898.  Guillaume and Allais had traveled to Chicago together in 1893 to report on the Exposition; Guillaume later quarreled with Allais when the latter signed an "anarchist" petition.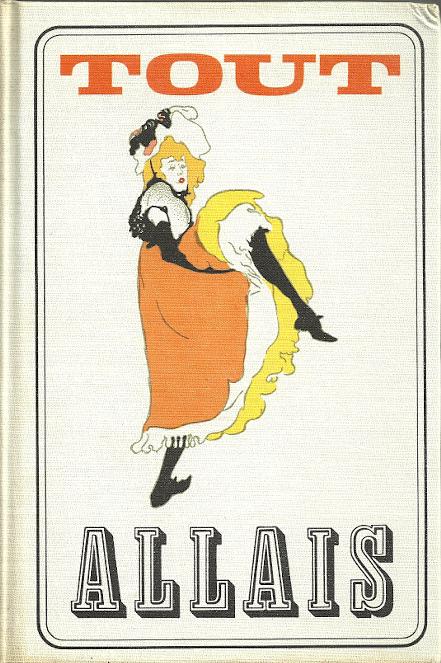 Volume 3 (1968, 525 pp.) contains the last four anthumous books.
Amours, délices, et orgues (Loves, Delights, and Organs) (1898) collects 47 stories.  The title is made up of the three words in French that are masculine in the singular and feminine in the plural.
Pour cause de fin de bail (Because the Rent Is Due) (1899) contains 54 pieces.
Ne nous frappons pas (Let Us Not Hit One Another) (1900) collects 58 pieces.
Allais's final collection, Le Captain Cap (1902) was devoted to the exploits of his friend Captain Cap, Albert Caperon, who often appeared in Allais's stories.  It includes a dossier on Caperon's run for parliament in 1893, as well as 47 stories about Cap, many reprinted from earlier collections,  and several rewritten to include the Captain.  My illustrated translation is available from Black Scat Books.
The cover illustration is Toulouse-Lautrec's drawing of the dancer Jane Avril, who was tied romantically to Allais from about 1892 to 1894.
(Posted by Doug Skinner)