In the late 1940s, fans and followers of Richard Shaver tried to research his claims.  Some of them tried to find their way into the caves he had described; others tried to build the machines that he claimed the cavern races used underground.  Of the latter, most concentrated on the telaug, or telepathy augmenter, or on the ben ray, a healing device.  Ralph Holland, however, came up with this "exd motor," which was published in the The Shaver Mystery Magazine, Volume 3, Number 1, in 1949.
"Exd," in Shaver's physics, was star ash, the residue of dead stars, which fell to earth and caused gravity.  The idea wasn't original; it had been championed in the 18th century by Georges-Louis Le Sage, among others.  Holland offered a motor which was powered by exd.
Holland also claims that he studied it by dismantling one of the vehicles used by the cavern races.  This seems unlikely; perhaps the answer lies with his collaborator, Ira Amenophis (that last name being the Greek form of Amenhotep).  Holland, along with other Shaverites, claimed to be in psychic or telaug contact with some of those subterraneans.  Ira was one of those, so perhaps he supplied the information.
I don't think anyone tried to build this.  According to the account, it was made of a particularly dense, unknown metal, and required an unknown power storage unit.  You're welcome to experiment.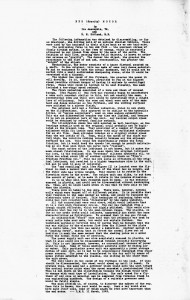 (Posted by Doug Skinner)