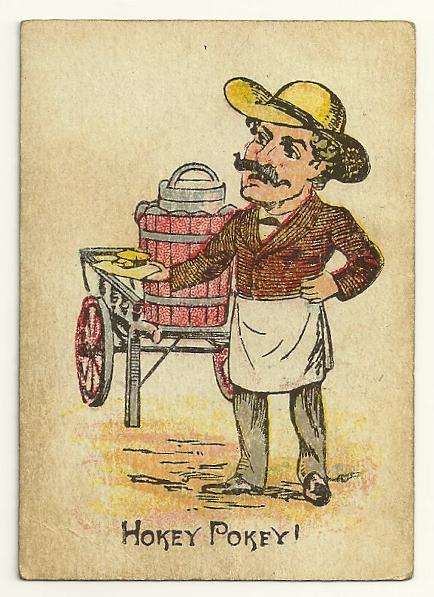 I'm going to return to posting children's card games.  Maybe I'll post another 200.  For those who came in late, my interest is in the anonymous graphics and cultural footnotes found in this most disposable of genres.
The gentleman above is from a deck of "Snap," undated, and identified only as "British Manufacture."  Cursory research tells me that "hokey pokey" was late 19th century slang for ice cream, particularly that sold by Italian street vendors; it also sometimes meant toffee, or ice cream with toffee, but apparently mostly in New Zealand.
All of the cards represent street vendors and their cries, giving a charming glimpse of life in the UK at that time; although I hope the real vendors didn't have such large heads.  The others are: "Scissors to Grind!", "Chairs to Mend!", "Coals!", "Winners!" (racetrack results, I imagine), "Cat's Meat!", "1d a Bunch!" (flowers), "Sweep!" (chimney sweep), "1d All the Way!" (streetcar conductor), "Muffins O!", "Old Clo'!", and ""All a Growing!" (plants).
(Posted by Doug Skinner)