In 1932, a certain Marion Kinnaird had a choice assignment: to write children's books based on two grand old comic strips, Frederick Opper's "Happy Hooligan" and James Swinnerton's "Little Jimmy."  They were published by McLoughlin Bros. in a large format (10″ x 13″), with four-color  covers and three-color interiors.  For Opper, he or she came up with a story in which Happy Hooligan and his friends, Uncle Si and Mr. Dubb, find a stray dog.  For Swinnerton, Little Jimmy dreams about a band of animal musicians.  Both stories could have been based on previously published strips, of course.
The Happy Hooligan book is labeled #281, the Little Jimmy book #284.  A bit of internet scouring comes up with two more books in the series: Little Annie Rooney's Wishing Book (#282) and The Story of Just Kids (#283).  All four were based on King Features properties; Marion Kinnaird is credited only on the Opper and Swinnerton.
But who was Marion Kinnaird?  Further scouring yields no other books by him or her.  The name does appear in a couple of census and genealogical records.  There was a woman named Marion Kinnaird in the 1940 census, for example, identified as married, 38, and living in NYC.  Was she the one?
Here are samples of both books, taken from my own copies.  You can click on them to see them bigger,  In fact, I think you should.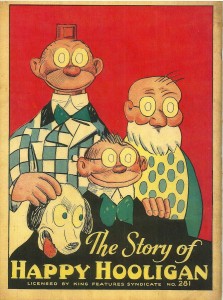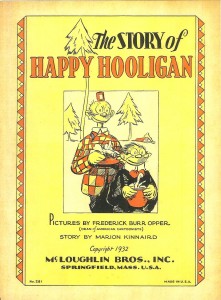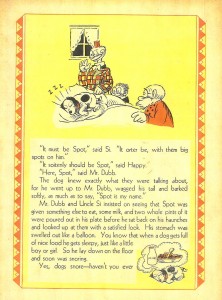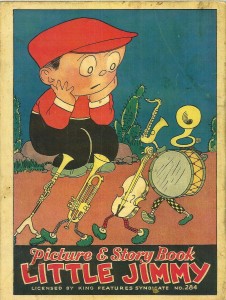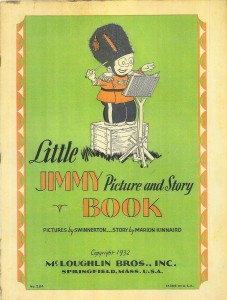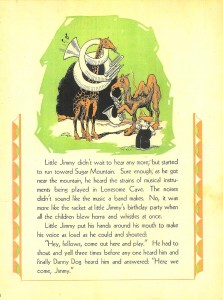 (Posted by Doug Skinner; thanks to Dr. Mamie Caton for the Little Jimmy book!)