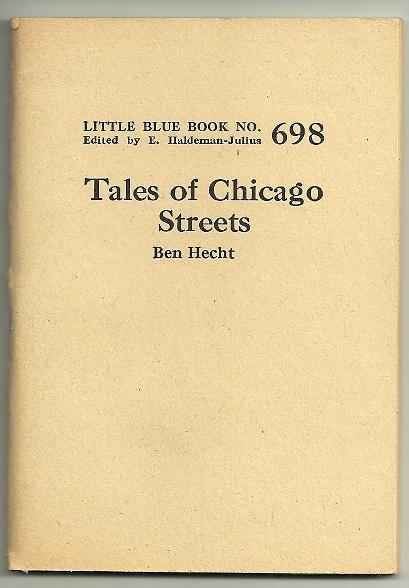 Ben Hecht declared himself "the first disciple of Charles Fort" in a review of The Book of the Damned,  and used the opportunity to coin the word "Fortean."  Tiffany Thayer said the took Hecht as a model when he started writing fiction; and Thirteen Men, in particular, seems to aim for Hecht's distinctive flash.
Like the other Founders of the Fortean Society, Hecht was more interested in Fort than in what is now commonly called Forteana.  His own prolific output of columns, books, short stories, plays, and screenplays is marked mostly by an unerring sense of the commercial.  But a fondness for Fort seems to have persisted in his family: my own copy of The Books of Charles Fort was a gift to Lilli Palmer from Hecht's daughter Edwina.
Hecht published seven collections of his short stories as Little Blue Books.
698: Tales of Chicago Streets
699: Broken Necks and Other Stories
1163: The Policewoman's Love-Hungry Daughter, and Other Stories of Chicago Life
1164: The Unlovely Sin, and Other Stories of Desire's Pawns
1165: Jazz, and Other Stories of Young Love
1166: Infatuation, and Other Stories of Love's Misfits
1167: The Sinister Sex, and Other Stories of Marriage
The first two were printed in 1925, the rest in 1927: a few years before the FS.

"The Policewoman's Love-Hungry Daughter" (and what a splendid title that is) contains my favorite, "The Movie Maniac," in which a man's life goes haywire when he starts adapting the mannerisms of movie actors: "I could ask him no question without bringing upon me the entire business of surprise, intelligence, doubt, hesitation, fear, and even anguish.  His gestures were the ludicrous exaggerations of the movies.  He had, it was evident, stepped out of the colorless routine of his copy reading days into some magnificent limbo."
Unfortunately, such contempt for the cinema has not become a Fortean principle.
(Posted by Doug Skinner)