The Fortean Society was founded in 1931 to promote the work of that indescribable author Charles Fort.  The founders were: Theodore Dreiser, J. David Stern, Tiffany Thayer, Ben Hecht, Booth Tarkington, Aaron Sussman, Burton Rascoe, Harry Elmer Barnes, Alexander Woollcott, John Cowper Powys, and Harry Leon Wilson.  Sussman was a book designer, and Stern a publisher; the rest were writers.
Fort died in 1932, and the Society lay somewhat dormant for a while.  In 1937, Thayer decided to start a magazine.  His first step was to quarrel with Dreiser, who withdrew from the Society.  He then started publishing The Fortean Society Magazine, which, after 11 issues, he retitled Doubt.
Beginning with that 11th issue, too, Thayer put his name in big letters on the cover.  For Doubt, although inspired by Fort, was full-throttle Thayer.  Fort's ruminations on the interconnectedness of all things, his flights of fancy, and his satires on confirmation bias were replaced by Thayer's noisy denunciation of all authority and dogma.  Art Castillo's cartoon from #25 summed it up well.  Dogma was a slavering Cerberus of Church, State, and Science: "all three are merely Orthodoxy in a different set of clothes."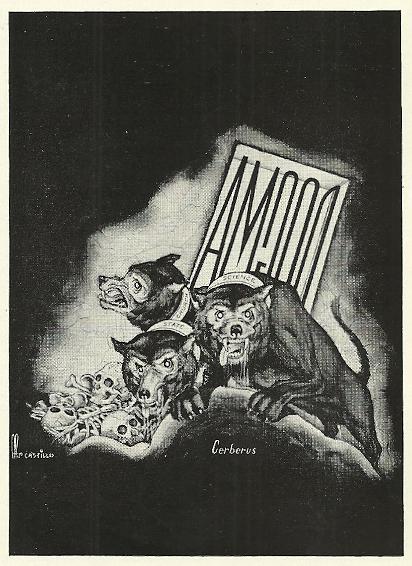 Latter-day Forteans usually document scientific anomalies; Thayer was more interested in political issues: government waste, compulsory vaccination, atheism, the Indian aristocracy, pacifism, scientific boondoggles.  He also promoted the activities of the society's members, who were often doing interesting things: Caresse Crosby, Buckminster Fuller, Henry Miller, and others.  There were 61 issues; the magazine folded in 1959 with Thayer's death.  It was consistently irritating, sophomoric, puzzling, and profoundly entertaining.
You can read a longer article I wrote about Thayer for The Fortean Times over here; and below is a sampling of covers.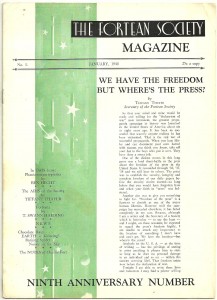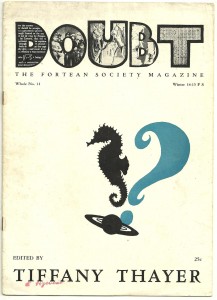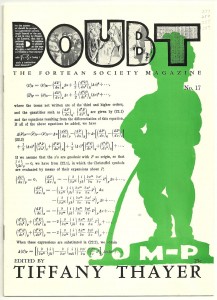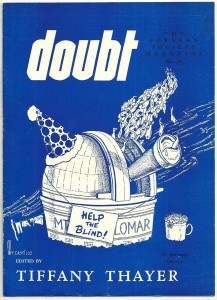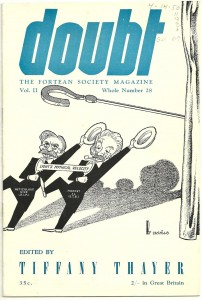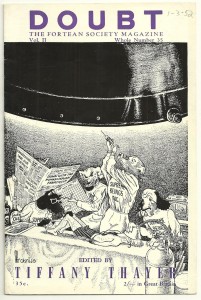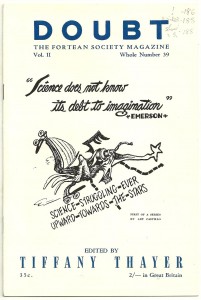 (Posted by Doug Skinner)