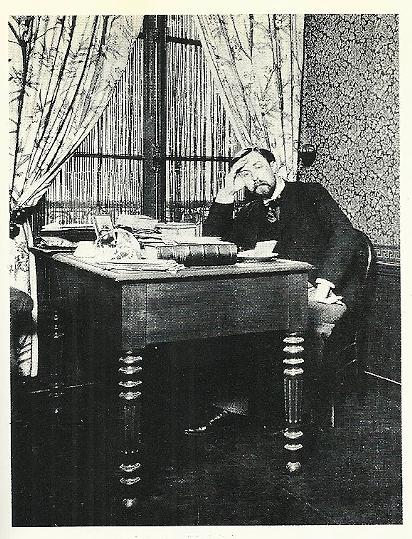 We return to the great French journalist, humorist and nonpareil, Alphonse Allais.  I remind you that my translations of his Captain Cap stories, Captain Cap Volumes 1 and 2, are available from Black Scat Books; and that further installments are scheduled for July and August.  A collection of his immortal mockery of the reactionary critic Francisque Sarcey is also slated for June.
Allais sometimes appended a brief "Petite Correspondance" to his column.  It permitted responses to real and fictional correspondents, extra jokes, addenda to previous columns, running gags, plugs for his books, and other odds and ends.  Here is a sampling, taken from Le Journal, 1895-1897.
I received numerous contributions intended for the Franco-Lapp Society, to draw cyclists up the slopes with reindeer.  Unfortunately, due to an accounting error, the sums received were used in large part to pay for the cold drinks that I had to consume last week.  The remainder was put into the hands of an umbrella seller in Le Havre, a city in which I was surprised by a sudden storm.  A thousand pardons. 
M. Jules Renard, the author of Natural Histories:  Like you, I adore cats, and have proven it.  But I do not share your opinion on these exquisite beings' romantic discretion.  When they are in love, they cry it from the rooftops.
To some compassionate souls:  Many thanks for the sympathy you have expressed for the son of my former concierge.  The poor lad has finally found a position.  He is employed in the thoroughly artistic atelier of M. Rochas, a photographer in Blois, where he has had the good fortune to encounter photographic plates even more sensitive than himself.
Mme. la Marquise de B., in Compiègne:  No, a thousand times no!  If you go out in the street in a diving-suit, do not take an umbrella; you will make yourself conspicuous.
M. Paul Escudier, municipal counselor in Paris:  I received your thirty francs, but basic honesty compels me to inform you that I am no longer a voter in the Saint-Georges district.  M. Bompard, for whom, here, I promise to vote, will be glad to reimburse you.
Mademoiselle Nina Pack, of the Opéra-Comique:  You are charming, miss, but your anthropological conclusions are somewhat frivolous.  There is no reason, because a man is of normal height, to assume that he is the son of a dwarf and a giantess.
R. C. of the Vésinet:  The story to which you refer, in my book 2 + 2 = 5, originally appeared in Le Chat Noir, whereas the cabaret song in question is from last year.  It is therefore your friend who is an imbecile and a thief.
M. Léon Gandillot, in Paris:  You have not been deceived, sir; cats that eat flies never grow fat.  Nor tigers!  Especially if they eat nothing else.
In the past few months, I have received a recrudescence of letters, full of cordiality, but a bit familiar, in which I am addressed as "My dear Alphonse"; some even go so far as to call me "pal."  I warn these ladies and gentlemen that, in the future, I will only open correspondence that treats me with respect.
To some readers:  Absolutely!
To others:  Not on your life!
(Posted by Doug Skinner)