When I suggested to Norman Conquest, the CEO of Black Scat Books, that I translate the Captain Cap stories of Alphonse Allais, he was all for it.  However, he also proposed that I draw the cover, which left me with a problem:  what did Captain Cap look like?
The French pocket book that my friend Serge gave me back in the '70s was my first introduction to to the intrepid adventurer.  Here, the Captain was depicted as a rather stereotypical sailor, placed, as is only appropriate, in a bottle.
The Argentinian edition used a picture that looks suspiciously like Alfred Jarry.
For some reason, the Captain was also used at one point to advertise a brand of cookies.  In the stories, he was much more fond of cocktails than pastries, but I suppose that advertisers follow their own hearts.  At any rate, the ad later adorned the cover of a Spanish edition of the book.  He looks rather dapper here, somewhat like a Londoner in his club.
Fortunately, François Caradec's 1994 biography of Allais reveals the only known photograph of the real Captain Cap, Albert Caperon, published in the Parisian papers during his run for parliament in 1893.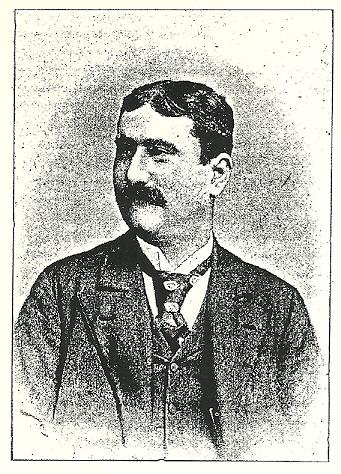 There is also a caricature extant of the Captain, drawn by Jean Veber, and published in Le Journal, January 6, 1896.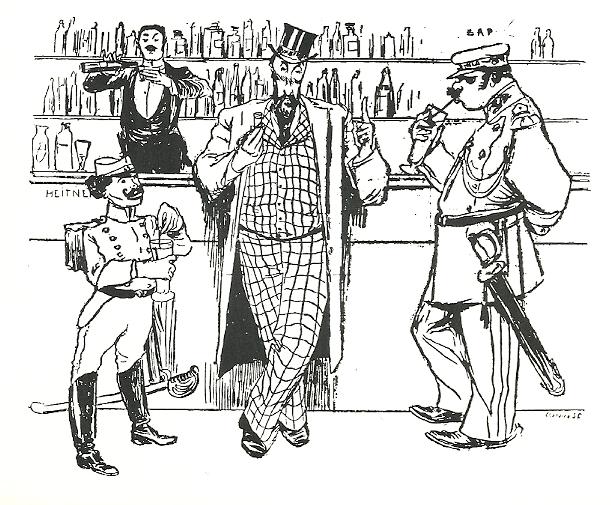 From left to right, we have Major Heitner, Allais, and Cap.  Allais used this drawing as a pretext for a column; he threatened legal action, claiming that the liberties taken with his likeness would drive away his female clientele.  Oddly enough, that caricature, with Heitner and Cap cropped out, was used as a cover for yet another edition.
Cropped from the cover of his own adventures!  Well, with this new edition, I have, at long last, placed Captain Cap on the cover of Captain Cap.
(Posted by Doug Skinner)