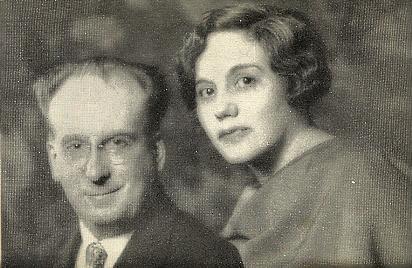 We return to that interesting character, Benjamin De Casseres.  There are only a few pictures of him online: a caricature, for example, and a photo of him celebrating the 21st Amendment.  So, here's a portrait of De Casseres with his wife Bio.
The picture is taken from his 1931 book, Love Letters of a Living Poet.  Like many of his books, it's intense, original, and somewhat embarrassing.
Apparently, in November, 1902, De Casseres met a "beautiful, very dark woman" in his Manhattan boarding house; they exchanged some meaningful glances, and read some Byron together.  They met briefly three more times; and she then left town, in March, 1903.  Her name was Mary Adele Terrill Jones, she was married, and she lived in California.  She preferred the name Bio, which she said was her Indian name.
Ben and Bio wrote increasingly passionate and elaborate letters to each other; but didn't meet again until 1919, at which point Mrs. Jones divorced Mr. Jones, and married her penpal.  De Casseres was, perhaps, not the ideal suitor, since his letters often dwelled on his poverty, suicidal impulses, and massive consumption of alcohol.
In 1931, De Casseres published a selection of his letters to her, as well as a few of hers to him.  Here's an extract from a long letter, expressing one of the oddest romantic fantasies I've seen.
(Posted by Doug Skinner)