The Ullage Group has long been fascinated by changing customs in diet.  Foods go in and out of fashion; what we eat is telling.
I have here two menus from meetings of the Order of the Eastern Star, both from September 1950, both from Connecticut.  The Eastern Star was founded as an order for wives and sisters of Freemasons, and later developed into a more independent organization, with co-ed membership, although still geared to women.  And what did they eat when they gathered?
Our first menu is from the Official Visitation of Mrs. Eleanor K. Lewis, Associate Grand Matron, and her Associate Grand Officers, to the Evergreen Chapter No. 22.  The event took place September 21, 1950, at the Masonic Temple in Naugatuck, Connecticut.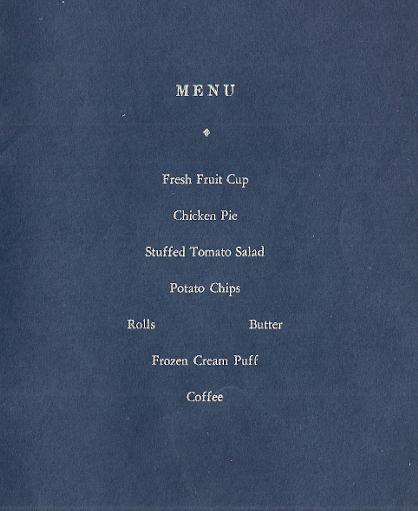 Our second menu is from a week later, September 28, 1950.  This event marked the Official Visit of Mrs. Martha P. Williams, Worthy Grand Matron, and her Associate Grand Officers, to the Good Will Chapter No. 112, of Waterbury, Connecticut.  There was also a reception in honor of Mrs. Mildred R. Wright, Grand Organist; the proceedings again took place in the local Masonic Hall.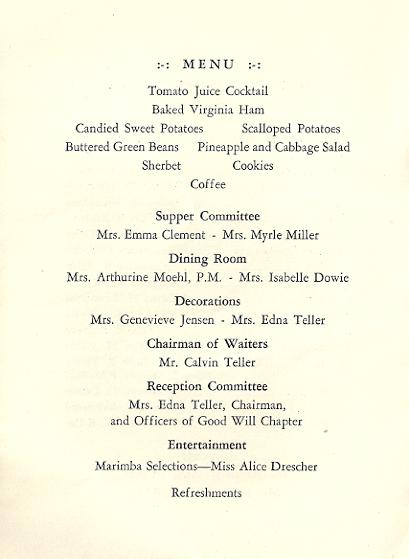 (Parenthetically, I'll note that Miss Alice Drescher played marimba selections.  I wish I attended dinners with marimba selections.)
The menus are staunchly Anglo-American, with no influence from Continental Europe (and certainly nothing Mediterranean), South America, Asia, or Africa.  The only exotic touch is the pineapple, here combined with cabbage, which is a combination I've never tried.   The only beverages mentioned are coffee and "tomato juice cocktail."  I suspect the latter contained no alcohol, but that's just a guess.  I also guess there was no wine.
There's nothing about the selections that seems particularly suitable to a "secret society"; in fact, they're probably typical of the regular diet of middle-class white Connecticut in 1950.  Which is, of course, what interests me.  Would such a gathering today include more "ethnic" food?  Would it include pasta, guacamole, spinach pie?
(Posted by Doug Skinner)