I'll post here a few more mementos from George Kuchar.  If nothing else, I hope you enjoy his distinctive penmanship.
The Exiled Files of Eddie Gray was a sort of return to his old film, Corruption of the Damned.  In the first part, Larry Leibowitz and Floraine Conners attempt to remake their love scenes from an earlier decade; in the third part, George interviews John Keel in his apartment (John shows up at a party in Corruption of the Damned).  In the middle section, I portray a Keel expert, informing two students (Bryan Hiott and Debbie Rice) about the Keelian corpus, assisted by my dummy, Eddie Gray.  We shot the scene in my old studio in the meat packing district, and a picturesque studio it was.  George had great fun working with Eddie.  And the interview with Keel is one of the best I've seen.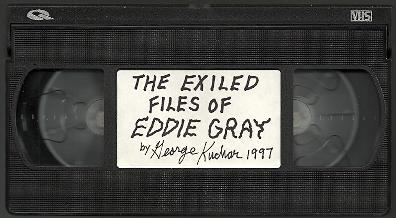 The Passion Pot was one of George's class projects, done with his students at the San Francisco Art Institute.  They were usually chaotic, overheated productions, and this was no exception.  He was apparently inspired by a talk on Richard Shaver that I had given at the Christine Burgin Gallery.  George's vision of rocks dissolving into hallucinatory visions of the underworld was truly splendid.  This tape is only labeled on the side; I think the other label fell off from repeated viewings.

And I cherish his note!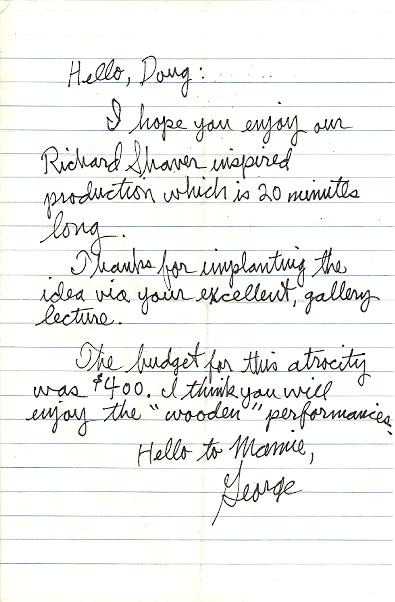 Most of the obituaries I've seen have stressed George's earlier work, his kitschy homages to Hollywood melodrama.  But he made other kinds of "pictures" too; here are some he gave me along the way.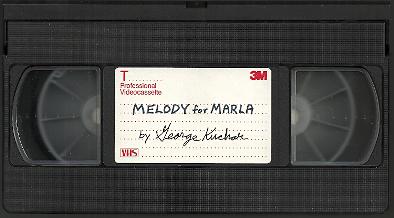 Melody for Marla set a record by UFO contactee Harold Menger to video feedback patterns.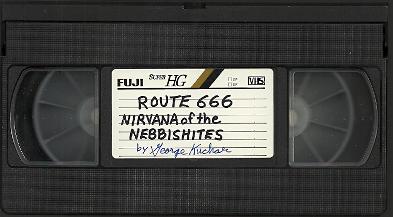 Route 666 was one of George's weather diaries, in which he rented a hotel room in Oklahoma and waited for tornadoes.  In Nirvana of the Nebbishites, his cat Blackie and a marionette named Pepe wander through George's magic marker landscapes.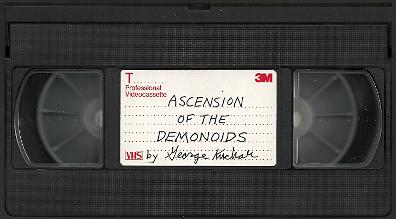 Please don't ask me to describe this one.  It's very funny, though.  John Keel remembered this one as "Humanoids with Hemorrhoids," I'm afraid.
Rest in peace, George.  Thanks for everything.
(Posted by Doug Skinner)