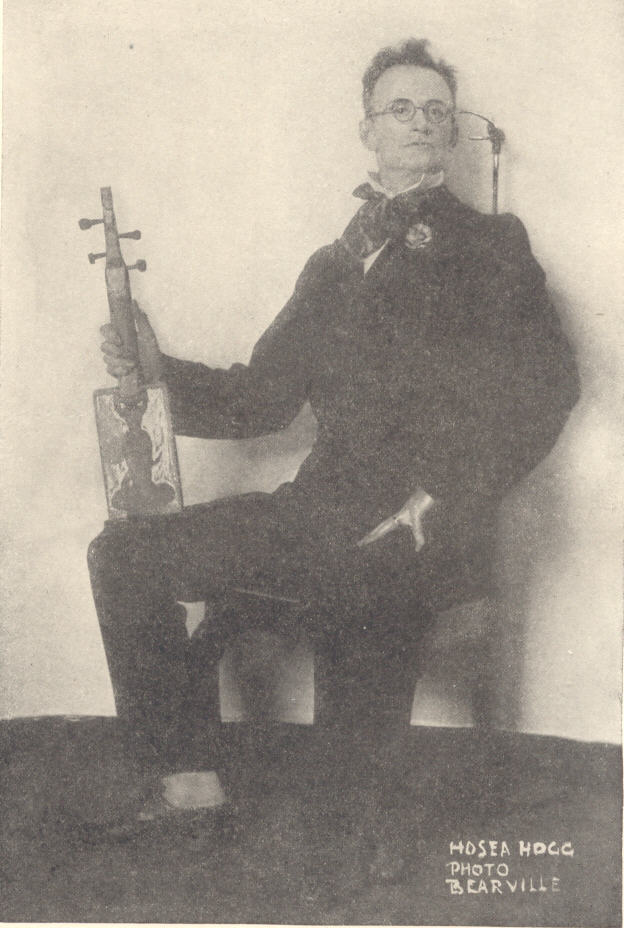 I've long been interested in the career of Bobby Edwards, who played and made ukuleles in Greenwich Village in the 'teens and 'twenties, and established himself as one of the Village's most conspicuous and colorful personalities.
I haven't been able to dig up much biographical information.  I know that he was born in Buffalo in 1879, and died in New York City in 1948.  He graduated from Harvard in 1901, and attended Chase Art School; and worked for a while as an illustrator.  He then settled in the Village to pursue a merry, disorganized career as a sometime artist, performer and writer — and full-time Bohemian.  He advertised himself as "Maker of the Ukalyptos, Second Cousin of the Ukulele.  Painting, Poetry, Movie Acting, Music, Singing, Illustrating and General Art Work Neatly Done.  Also Contracts Taken to Make Restaurants Famous.  Terms for Singing at Parties on Application.  Also Portrait Photography."
He edited the quintessential Village magazine, The Quill (from which the above promotion was taken), and filled its pages with verses, songs, gossip, and photos of his cats romping through his famously cluttered studio.  He also contributed to The Masses, Broadway Brevities, and other periodicals.
But he was best known for his performances in clubs and revues, where he sang his comic songs, strumming a brightly painted cigar box uke.  He not only made the uke himself, but turned out others to sell to tourists.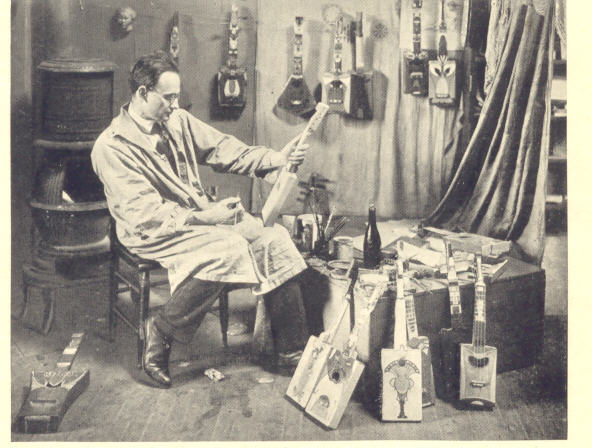 His signature tune was "The Greenwich Village Epic," a sprawling satire which apparently everyone then living in the Village added to.  (I posted all the verses I could find, as well as the official Edwards history of it, back here on 3/30/10.)
He was a somewhat controversial figure: many entrenched Villagers were serious artists, and bridled at his frivolity, and at his promotion of the Village as a Boho playground.
In the next few posts, I'll air some of the material I've collected on him.  Ukulele and Village history buffs, watch this space!
(Posted by Doug Skinner.  The first photo is taken from The Song Book of Robert Edwards (1917); the second from Souvenir Book of Greenwich Village (by Ralph Bartholomew, 1920).)