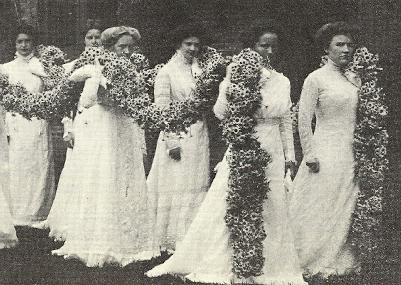 The Ullage Group proudly, but earnestly, announces its ninth presentation, "Marching to Utopia."  We will acquaint you with a few schemes for the betterment of mankind.
Step out of your cold, mechanistic, and meaningless universe, and go back to school with Lisa Hirschfield, your tour guide at the University of Science and Philosophy.  Far more than a philosophy (and science as we've never known it), the USP promised to settle the age-old dispute between science and religion once and for all.  Explore space, time, love, and the Oneness of all, as revealed to Walter and Lao Russell, the USP's evangelists.
Anthony Matt will discuss the rise and fall of the Oneida Community, which prospered for forty years during the mid-nineteenth century in upstate New York.  The community was founded on a curious form of free love and eventually dissolved into a silverware company.
Doug Skinner will talk about the legendary Order of Judas Iscariot, a small but influential fraternal organization that affected the early development of the American experiment.
We will hold forth at the Jalopy Theater, 315 Columbia St., Brooklyn, NY; on Sunday, Sept. 26 at 3 pm.  Admission is only $5.  Directions to Jalopy can be found here.
(Posted by Doug Skinner)