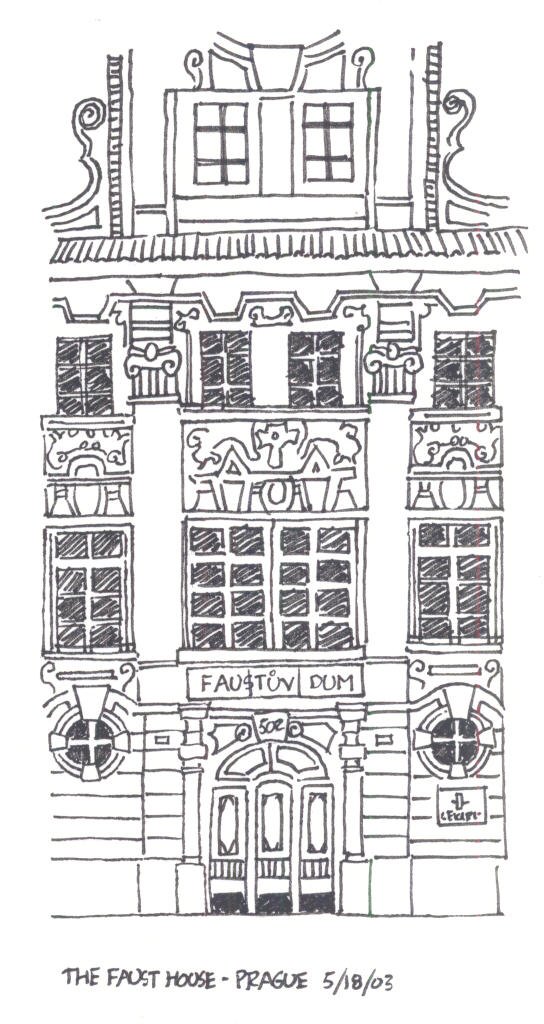 I made this sketch of that curious old building, the Faust House, on a trip to Prague a few years ago.  I post it here for whatever pleasure it may trigger.
The Faust House, for those unfamiliar with it, sits on Charles Square; it houses the Faculty of Medicine of Charles University, and is not open to the public.
There are many stories told about it.  The first is the one that named it: that it was indeed the home of Dr. Faustus, and that the Devil whisked him off through a hole in the roof — or, in some versions, from the second floor of the corner tower.
It sheltered a gaggle of savants over the years: in the 15th century, the alchemist Prince Vaclav of Opava; in later years, the astrologer Jakub Krucinek, and another alchemist, Ferdinand Antonin Mladota.  In the 19th century, Karl Jaenig indulged his romantic morbidity there, rigging up a gallows, painting the walls with dismal mottoes, and sleeping in a coffin.  He also asked in his will that he be buried face down.  Ah, youth.
The most familiar Faust Householder though, is undoubtedly Edward Kelley, John Dee's rather shady accomplice, who settled in Prague for a while.
And, not surprisingly, there are other rumors: unexplained fires, cat skeletons found in the walls, and reports that 16th century alchemical paintings still cover the walls and ceilings.  But we can't go in, so we can't see them.  We can just study the facade, and ponder the folklore.
By the way, I recommend sketching while traveling.  It's less accurate than photography, but you really have to look at something to draw it, and that's a treat.
(Posted by Doug Skinner)