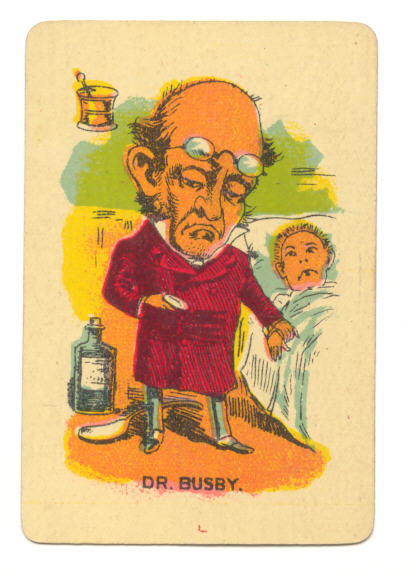 Here we have a few images from a 1905 Milton Bradley edition of "Dr. Busby."  As you may recall, he popped up earlier, making a guest appearance in an "Old Maid" deck (#33 in our survey, posted 11/13/08).  Like "Old Maid," there were many editions; this Dr. Busby is certainly a more dour practitioner than the last.
"Dr. Busby" is, I understand, one of the first children's games published in the US.  It was invented by Anne Abbott in 1843; Ms. Abbott is also credited with a children's book, Doctor Busby and his Neighbors, and with various other games, including that old favorite, "Authors."
There was a historical Dr. Busby: Richard Busby, headmaster of Westminster in the 17th century, mentioned by Pope in the "Dunciad."  Since that Busby was known mostly for beating and molesting his students, I do hope this is a different one.
The object of the game was to match up families: the four members of Dr. Busby's household, and the families of his various servants and retainers.  Most of the early editions were 20 cards; this later version has swollen to 40.  20 of the cards are obviously from the same hand, such as this picture of Dr. Busby's fishmonger: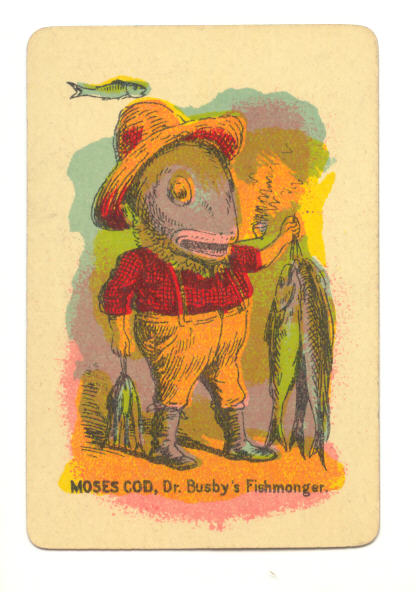 The other 20 are a mish-mash of cruder cuts, like this one: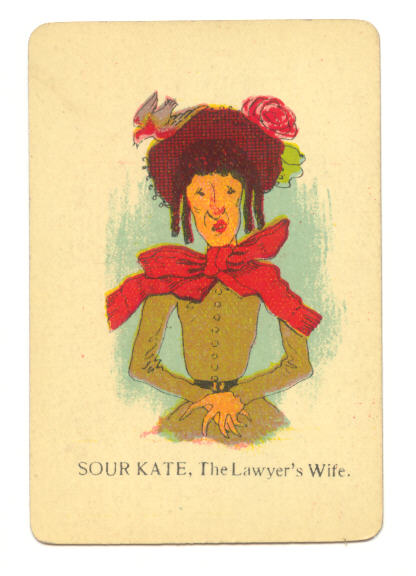 (Posted by Doug Skinner)