November 16 marked the beginning of National Geography Awareness Week.  Whether "national" indicates an emphasis on native geographical awareness, or is meant to suggest that we as a nation need to brush up on world geography, is unclear.   Without getting too theoretical, I'd like to point out that geography is a social construct.  Unlike geology, geography conventionally describes a spatio-temporal sphere (as it were) of landmasses, landscapes, populations, and natural phenomena; defines nations and borders therein; draws maps and revises atlases thereof; and thereby provokes territorial disputes.
And without getting too technical as to what does or does not constitute a landmass, I'd like to call attention to some lesser-known geographical entities.
Micronations rarely achieve international legitimacy, although for one day in 1958 the UN hoisted the flag of The Nation of Celestial Space and let it wave alongside those of the UN member states.
The Republic of Rose Island, situated off the Adriatic coast of Italy from 1968 until it was dynamited a year later by the Italian government, issued its own money and postage, and declared Esperanto its national language.  Many people are familiar with the Principality of Sealand, another platform-based nation, in the North Sea.

Some micronations insist on historical legitimacy despite being  virtual, or exiled within other nations, like the Duchy of Bohemia (currently located in Nevada).  Others stake larger claims, such as entire continents.  Antarcticland was founded in 1821 and, like most micronations, has established legal, legislative, and postal systems; it also boasts its own national anthem and an Olympic Committee.  Citizenship applications are currently available.

Micronations seemed to pop up like mushrooms in the 1960's and 70s.  Modern experiments in medieval fiefdom or the nation-state taken to their logical extreme, these entities were often founded upon libertarian principles — especially regarding taxes, which in most cases remain un-levied.  As demonstrated by Thomas More's Utopia, however, the exercise of progressive values such as life, liberty, and the pursuit of happiness commonly depends upon rather totalitarian or otherwise illiberal conditions.  More often than not, and sadly, the best intentions of micronationality beget imperialistic aspirations, economic mismanagement at the deepest levels of government, the commodification of cultural patrimony, and a notable distaste for freedom of speech.

My favorite micronations are neither virtual nor geographical: real in their own way, apolitical, and very beautiful, they were brought to life by the philatelic imagination of the late Donald Evans.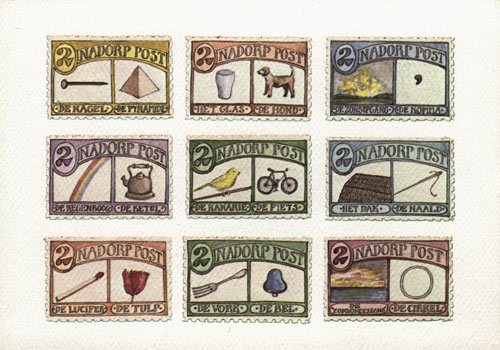 (posted by Lisa Hirschfield)