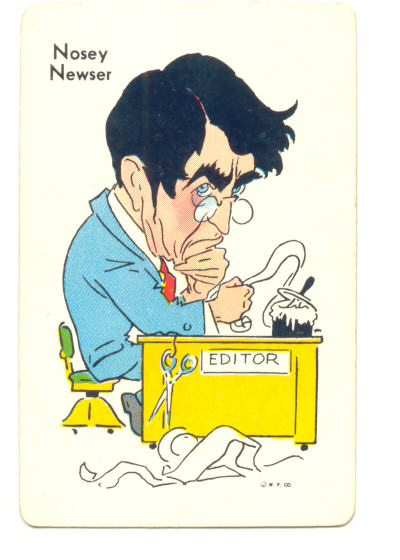 We haven't broached the many versions of "Old Maid" yet; it's time we did.  This one came from Parker Brothers.  I'd like to know when, but they won't tell me.
Old Maid was always an odd game.  The implied message is that you will become an Old Maid if you don't pair off; but the Old Maid never looked unhappy with her lot, and the other characters only paired off with themselves, which doesn't sound too thrilling.  If I were Nosey Newser, I'd prefer another face on the pillow.
The anonymous artists seem to have enjoyed coming up with different characters and Old Maids for the game.  For your heightened pleasure, I'll also include the Old Maid for each deck, so you can compare.  Here's this one (please pardon the wrinkle; the Maid is Old).
(Posted by Doug Skinner)