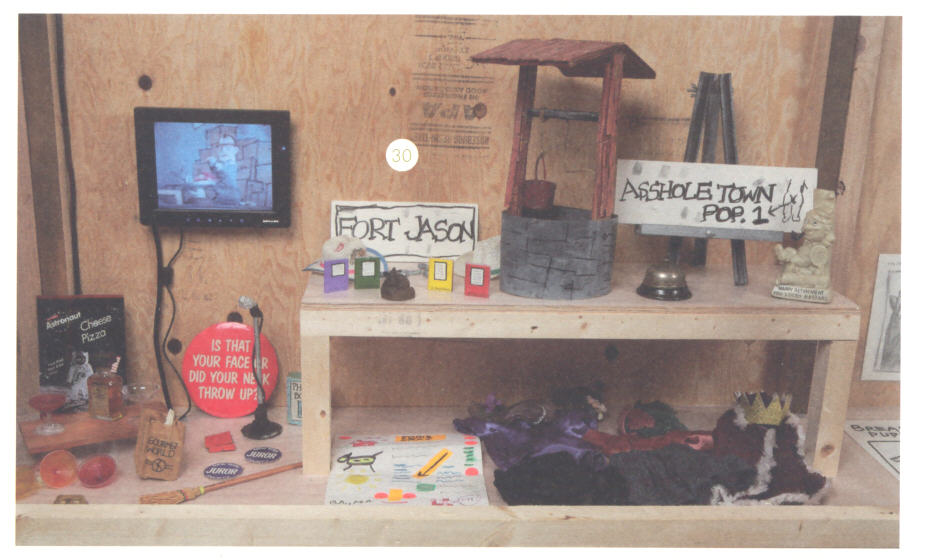 Look: a collection of props from the puppet shows Michael Smith and I performed back in the '90s.  There's the wishing well; there's the mic from Cory's club act; there are the signs from Kevin and Jason's fort.  Ah, memories.
It's from "The Puppet Show," curated by Ingrid Schaffner and Carin Kuoni at the Institute of Contemporary Art in Philadelphia; Terence Gower designed the survey of puppet artifacts, "Puppet Storage."  The show also includes a number of Doug and Mike videos.  The catalogue is now in print; the exhibition is now on tour to Santa Monica, Honolulu, Seattle, and Houston.  And our invigorating DVD, Doug and Mike's Adult Entertainment, is still available from 2nd Cannons.
I will join my cartoonist colleagues at Jim Hanley's Universe (4 W. 33rd St., Manhattan), August 6, 6-8 pm, to sign copies of Danny Hellman's beautiful new anthology, Typhon #1.  (See the previous bulletin for more info on this.)  Come meet the people who draw the funny pictures!
The next Ullage Group event, "Through the Blackboard," is slated for September.  We will regale you with dubious science toys, questionable classroom material, the evolution of the school lunch, and other curiosities about education and indoctrination.  Details will follow.
The Ullage Group has acquired an overhead projector; we can now show transparencies, as well as slides, filmstrips, magic lantern slides, and DVDs.  John Keel also gave us the slide projector used in all those New York Fortean Society meetings way back when; we will use it responsibly.
Carmen Borgia and I play Jobim's immortal "Boy From Ipanema" in Kron Vollmer's new video, Pieces of the True T-Shirt.  A first cut was shown recently at Chashama.  May there be many more!
(Posted by Doug Skinner)