About ten years ago, I discovered this Japanese cartoon while skimming through a circa-1940s scholarly journal. I don't recall what it was doing there, or why, or that it had any particular relevance to the critical essays I was perusing, which is no doubt why it caught my attention. (Nor do I remember much about what I was looking for, or why, but assume I was doing background reading for an essay I was supposed to write.) Finding what seemed like an editor's wayward thought squirreled away for years in a dusty bound volume gave me a moment of real pleasure, especially since it was such an unexpected sort of thought. I made a poor copy of it before I put the book back on the shelf, and it has been posted on the wall above my desk ever since.
The piece is entitled "Yielding." I know nothing else about it, other than it depicts what happens when a small bench threatens the comfort of two very different people.*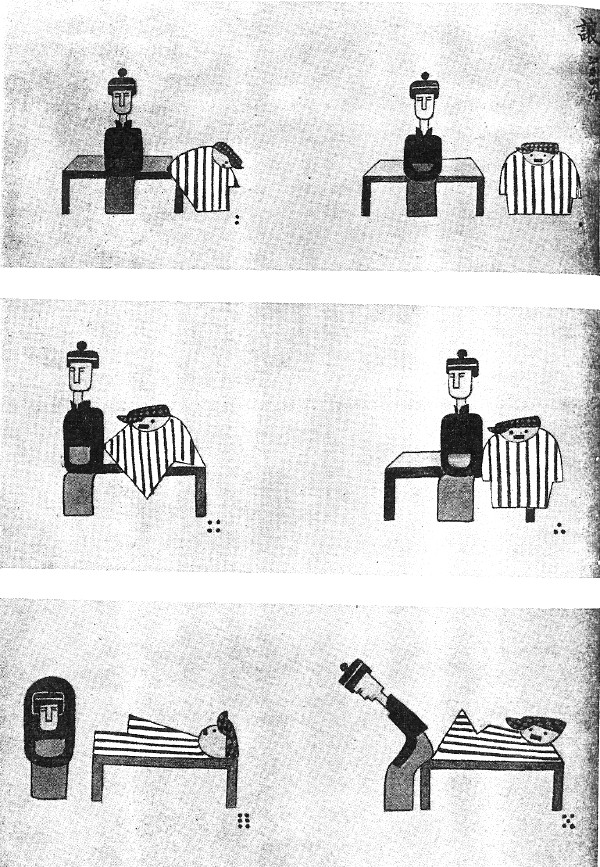 Of the six scenarios shown, does any one come closest to solving a most common dilemma: unlimited desire confronted by limited capacity?
Is there any chance for equitable compromise? Should they take turns? Or should one of them simply suck it up and walk off into the sunset to look for another bench? Somehow, that doesn't seem possible within the world of this drawing. Misery loves company, after all. Sometimes, misery is love's company. In this case, it is love's geometry.
Although opposites are said to attract, I have often wondered, had these two each been tall and aloof, or short and striped – that is, shaped sympathetically – would they have found happiness? Or, maybe there is a Seventh Way.
*(As I cannot read Japanese, I don't know what the inscription in the top right corner might reveal in regard to the author or context, so ad hoc translations are most welcome.)
(Posted by Lisa Hirschfield)